Accept Online Payments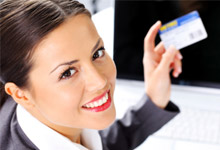 A Simple, Affordable Way to Accept Online Payments!
For merchants, charities, schools, and organizations, Web Payment Software™ is an affordable option for accepting credit cards payments online. Process online payments for membership drives, customer invoices, and conference registration, and do so efficiently and with peace of mind. We will deploy a secure payment system that will fit your needs and your budget. Web Payment Software™ offers the flexibility that makes it the right online solution for a variety of applications.
Secure, Easy-to-Use Merchant Credit Card Services
Offer your customers a convenient online payment choice through our Web Payment Software's™ payment pages. It's an effective way to accept charitable donations, class registration fees, and other transactions. In addition our competitive pricing features, our merchant credit card services will save you money on SSL certificates and hosting costs. All payment pages are hosted in our PCI compliant datacenter at no additional cost
User friendly web-based tools make it easy to build and manage your payment pages. The system also affords you plenty of control over the graphical appearance of your online payments pages, giving you the freedom to adapt the interface to your corporate identity and branding features.

Email Us | Sales: 1.877.583.0300
How It Works
We take care of the details involved in merchant account setup.
We handle the setup of your payment gateway account on our PCI-compliant server.
You get a secure, customized payment page that we build for you
You have the choice of linking to the online payments page from your web site or, if you don't have a web site, you can email the link to your customers.
You then collect your payments in one of three ways: online, over the phone, or using our virtual terminal.
Why Choose Us?
Trust: Mountain Media, a division of New Earth Technologies, Inc., has been in business since 1998.
Security: Mountain Media is a PCI DSS compliant hosting provider. That means your transactions are protected by the toughest data security standards available.
Simplicity: Our online payments system is easy to use, even if you're not technically inclined.
Adaptability: You can create unlimited online payment pages to suit your individual business needs.
Compare Our Pricing
Our affordable gateway fee is just half the cost that Authorize.net charges.
PayPal Alternative: We offer a 33% savings in transaction fees, as compared to Paypal.