Online Event Registration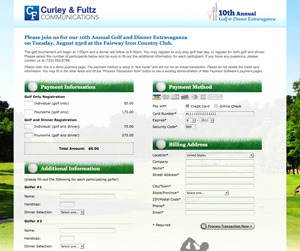 Sample event page
Have events you want to promote and collect funds for? Web Payment Software™ allows you to create customized online event registration pages for all types of events.
PERFECT FOR:
Golf Outings
Walk-a-thons
Annual Meetings
Seminars
Conferences
Classes
Web Payment Software's™ online event registration allows you to capture any type of data you need to register customers for your events and create unlimited online event registration pages for all your events at no additional cost.
The system automatically emails your customers details of their online event registration and you can download reports from the system to share with others in your organization.
No additional service fees like other solutions, you can save over 60% on your online event registration costs with Web Payment Software™.
Sample Event – See how much you can SAVE with Web Payment Software™
SAMPLE EVENT
Web Payment
Software™
Eventbrite
Regonline
SignMeUp
rsvpBOOK
Cost for an event at $150
per ticket, 200 attendees
$747.00
$1848.00
$2275.00
$2150.00
$2265.00
Savings with
Web Payment Software™
-
$1101.00


SAVE 60%

$1528.00


SAVE 67%

$1403.00


SAVE 65%

$1518.00


SAVE 67%


Email Us | Sales: 1.877.583.0300