Accept Checks Online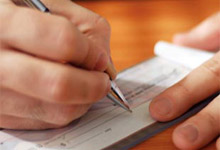 Accept checks online to help save your company time and money and increase the accuracy and efficiency of your receivables process. Offering more payment options to your customers will help cash flow and improve service.
Why Should You Accept Checks Online?
A check is still a very popular transaction method.
Checking account holders far out number credit card holders.
The overall cost for electronic checks are much lower than credit cards.
Improves cash flow by providing past due customers an immediate way to pay their balances.
eCheck are perfect for accepting donations, membership dues, monthly bills and more.

Email Us | Sales: 1.877.583.0300
Accepting checks with Web Payment Software™ is easy and affordable
Our representatives will help you set up an ACH merchant account that will deposit funds collected by eChecks directly to your regular business account. There is a setup fee, a monthly service fee, and a per check fee. The overall costs are much less then accepting payment by credit card mainly because there is no discount or percentage of the transaction fees.
Costs for accepting check payments online
| | | |
| --- | --- | --- |
| Setup Fee | Monthly Service Fee | Per Transaction |
| $99.95 | $15.95 | $0.49 per check |
Plus Web Payment Software fees see details »
Web Payment Software will allow you to create branded payment pages that can accept payment via eChecks or credit cards or both. You can see an example of an active payment page that offers both eCheck and credit card payments by clicking here.

Email Us | Sales: 1.877.583.0300